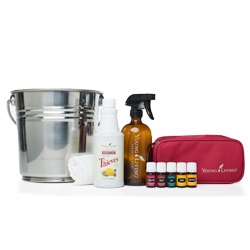 Cleaning out my cupboards — and my life — can feel so overwhelming! As I look around our house — the food in our cabinets, the stuff under our sink, the shelves over our washer — the enormity of what it means to live a more healthy lifestyle begins to sink in. What, get rid of all those bottles of (toxic) cleaners? Throw out my "Fragrant Cherry Blossom" lotion (possibly more toxins)? Can I really stop eating white flour and sugar? This sounds like crazy land to me.
But it's not.
What's crazy is to keep living in a way that could end up harming me and my family.
Without going into detail about any one particular chemical or unhealthy food, let me just say that I think we've all heard the basics. For example: How sugar isn't good for us . . . but we eat it anyway. We don't know anything about what goes into our lotions, but we slather them all over our bodies. I used to put deodorant with aluminum in it under my arms every day, and I never knew what was in it because I'd never taken the time to read the label and to consider what it could do to my body.
(Read this article about the possible link between aluminum and Alzheimer's.)
Did you know that I didn't realize this was ever an issue until I bought my Young Living deodorant just to try it out, flipped it over, and read,
Young Living's natural deodorants are an aluminum-free alternative to commercial products. AromaGuard® Meadow Mist™ deodorant contains coconut oil, beeswax, vitamin E, and pure essential oils such as Lemon and Lavender.
So, what's so bad about aluminum? I had to look that one up. Then I realized that I had most likely been literally poisoning my body all these years without even knowing it. That's what makes me so glad to have found Young Living, a company founded by a man passionately obsessed (in the best way) with 100% purity in the essential oils his farms and closely-monitored co-ops produce.
Then I thought, "Wow, in what other ways have I been mindlessly sacrificing our health for convenience' sake, as a result of my ignorance and laziness?
We don't need to debate over whether aluminum directly contributes to Alzheimer's; we don't need to haggle over whether the birth control pill causes cancer; we don't need to argue about vaccines. Because it seems pretty obvious to me that the real issue is this: Why would we want to put all that stuff in and on our bodies anyways? I mean, are all these chemicals what God intended for us?
Have we ever stopped to consider what the consequences of all this chemical exposure might be? Or do we think we can keep on popping pills and slapping toxins on our bodies and end up fine? I think that I personally, and we in general, have been rather blithe; we have been accustomed to think that since we are Christians, God will protect us from the consequences of our choices somehow. But wait a minute — doesn't the Bible say that "God is not mocked"?:
Do not be deceived, God is not mocked; for whatever a man sows, that he will also reap.

Galatians 6:7
We tend to think of that in terms of purely "moral" decisions: if you're a kid and you lie to your parents and they find out, you get sent to time out (or worse); if you cheat on a test and your teacher finds out, you fail the course; if you rob a store and the police catch you, you get sent to jail. But what about our health-related choices? If we put chemicals all over our bodies and houses for 80 years straight, what are the consequences of that? Do we think God will overlook those choices and protect us from the consequences?
Because remember: God is not mocked.
Certainly He can protect us from the consequences of our choices — if He wants — but why test Him? The Bible also says, "Do not put the Lord your God to the test"!:
Jesus answered him, "Again it is written, 'You shall not put the Lord, your God, to the test.'"

Matthew 4:7
Essential oils are not ALL that we need to be healthy; they are part of a larger quest for all-around good health; they are one element in the process toward better living — an element that can help to form the bridge from toxins on one side, to the wellness on the other side that we all want for ourselves and our families. If we sow good choices for our health (and that includes the way we eat and exercise, along with incorporating essential oils) then we will reap the benefits.
Is it overwhelming? It can certainly feel like it! But if we don't like where we are, we can't let ourselves get discouraged by how far away the goal now seems; we just need to get moving, one step at a time. What are some steps that I've taken so far?
To some of you health-food experts out there, this may sound infantile (ha, ha) but this is where I'm at:
Stevia instead of sugar in my coffee.
Dave's Killer Bread instead of super-processed, regular bread.
Organic Virgin Olive Oil and Organic Virgin Coconut oil instead of soy bean (vegetable) oil.
Butter instead of margarine.
Raw milk instead of ultra-pasteurized milk.
Coconut oil instead of lotion.
Thieves household products instead of chemical-laden cleaners.
Essential oils instead of synthetics: for my skin, to freshen the air, and to support overall wellness.
Those are my baby steps; and now that I look at it, I've actually come a long way from where I used to be!  I want to encourage you that you can do this, too — join me in seeking better health for our families!
You know, you will hear me talk about Young Living because that's what I'm using in my home and on myself and my family. I'm finding out how awesome essential oils are, and I feel that they can help us make the transition from toxin-filled living to toxin-free living. When I mention how great YL is, I'm not trying to sell you anything; I'm trying to share something with you. Something that could be a life-changer — for the better — like it's been for us. And you know what? I am so thankful that somebody else shared Young Living Essential Oils with me when I knew absolutely nothing about them!
This is just the beginning; but we have to start somewhere, right?