I just l-o-o-o-ve Young Living's Essential Oils! Absolute purity, high standards, and business integrity are some of the qualities I like about this company. And the oils actually work!
Maybe you've been reading my articles on how essential oils have helped my family and I, and you want to place your first order. Here's how:
Link here to the Young Living website (from the US). The link should take you directly to Member Sign Up. So that you can place an order, you will have to enter an enroller and sponsor number. You can use mine for both. My member number should pop up automatically, but just in case, here it is:
# 3677030
If ordering outside the US, please connect to the Young Living site through this link. Choose your country, and go from there. When you are ready to order, simply put my member # (shown above) in the appropriate fields.
#1 Pick how you want to order: as a Member or as a Retail Customer.
Becoming a member is the best option, in my opinion, because you get 24% off all the products, in addition to other benefits. You can become a Retail customer and only buy one product, but you will pay more for it; if you order a starter kit and become a Member, you not only get a discount on oils for life, but you also get to choose which awesome kit you would like to start your oiling journey with, plus you only have to buy $50 of product per year to keep up your membership! Isn't that cool?!
#2 If you want to become a member, choose your starter kit.
There are several options to choose from, depending on your interest. I started out with this one (the Premium starter kit):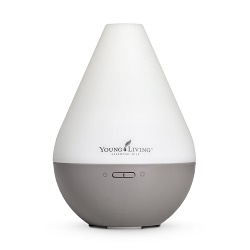 #3 Optionally, you can also set up your Essential Rewards at this time.
You don't have to do this right now, but I think it's a good choice. The oils in your starter kit will eventually run out (it took a whole year for me to use up all of mine — they lasted really long), and you will want to work on restocking them before they run out. I wish I had done it that way. When I really wanted lavender and lemon, for example, I didn't have any left. If you set up your automatic, monthly Essential Rewards shipment right now, you won't have to worry about running out, and you can also start stocking up on items such as products from the Thieves cleaning line so you can get started right away with non-toxic home cleaning.
You can choose an Essential Rewards kit, or simply customize your own order by choosing your favorite products from the catalogue. Your order has to be at least $50.00 per month to stay on Essential Rewards. I love it because you get a certain percentage of points back for every order sent, and depending on how much you spend, you also get free products to try:
#4 Fill out your personal information, choose a user name, password, and pin (write it all down so you don't forget it).
#5 After that, fill in payment details.
That's it!
I'm so excited to have you join me, and the rest of the Young Living family of members, in this journey toward better health and wellness the natural way!
Please let me know if you have any questions. I will be happy to help you out any way I can. And please let me know once you've become a member and set your order up; I'd like to send you a welcome package with a personal touch of my own.
~Jessica