The "lavender" scented garbage bags made me cringe every time I opened up the cabinet door to throw something away; perfumes made me gag; air fresheners and scented candles were like being in a gas chamber; I even had to avoid lotions. That's what being pregnant does to me: the nausea can be so overwhelming and persistent to the point that I wish I could retreat into a sterile, dark bubble. No smells, no bright lights, no loud noise, no nothing. Just rest. But there was one type of scent that I could handle–that I enjoyed, even! A fragrance that was both calming and rejuvenating at the same time.
The scent of Essential Oils.
Every time I went in to my midwife's office, I was greeted by a pleasant fragrance vaporizing from her essential oils diffuser. It was truly a  "heavenly" experience! It was a respite from the onslaught of harsh, grating odors I met with at every turn. If I could have bought a diffuser and some oils at that time, I would have–enthusiastically! But what I felt could have benefited me greatly at that point would have to wait to benefit me some other time; I simply couldn't afford it right then. However, I decided that once I did have the money, the first thing I would get myself would be one of those glorious, exotic, oil diffusers!
And I did. Here's the starter kit I ordered from Young Living Essential Oils. My midwife and doula are both members of Young Living, and use oils not only to diffuse in their office, but for natural remedies, too.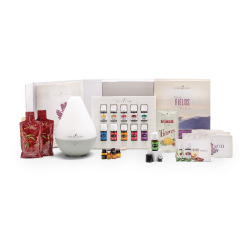 That was almost a year ago (I started in February of 2016), and since then, I've been excited to discover different and valuable uses for my oils, from relieving horrible stomach cramps due to a city-wide flu epidemic last spring, to drastically reducing a bump on my little girl's head from a tumble she took one day. What makes essential oils so useful, and so powerful?
Largely harvested from farm-grown and wildcrafted plants, herbs, and trees, essential oils are concentrated plant extracts obtained by careful steam distillation, cold pressing, or resin tapping. These pure essential oils are far more powerful than the botanicals from which they are extracted. We offer hundreds of single oils, blends, and oil-infused products, each containing the optimal levels of specific, naturally occurring constituents to maximize their potency. Whether you use oils for aromatherapy, personal care, or household solutions, every aspect of daily life can benefit from the incorporation of essential oils! [Young Living 2016 Product Catalog, page 11] 
I look forward to learning much, much more! What I like most about essential oils is their versatility, as noted in the caption above. You can use them for:
Cooking
Household cleaning
Skin and hair care
Pet care
Air freshening and purifying
Natural food supplements
Home remedies for many illnesses and conditions
Massage
Because of their flexibility, and because essential oils have so many great health benefits, I feel this is something I can get behind 100% and feel good about sharing with others. As I explore and discover more about essential oils, I am hoping to find answers to such questions as the following, which I look forward to sharing with you…
How can I use essential oils to:
Freshen and purify the air in our home? (Not just make it smell nicer, but actually make it healthier to breathe.)
Soothe and relax my husband's tired muscles and knotted nerves after long work days?
Relieve, and even cure, common illnesses in the family, such as colds and stomach aches?
Prevent illnesses from even starting?
Contribute toward the development of my children's long-term physical health?
Improve my own health, especially during the child-bearing years?
Relieve pregnancy symptoms, such as nausea, and help me relax during labor?
Smooth my complexion (scarred and mottled after years of acne)?
Develop alternative personal care products, such as toothpaste, but without unnecessary–or even harmful– ingredients?
Protect our home from dangerous chemicals by replacing harsh cleaners with natural and safe products?
Under my new heading Natural Health and Beauty, I will be posting articles on various general natural remedies that I find work for me and my family. In addition, I will be writing specifically about my experiences with Young Living Essential Oils. I am so excited to be starting this new adventure, and I would be very pleased to have you join me!
If you're interested in finding out more, here's a link to the Young Living Essential Oils website! My member # should automatically pop up, but just in case, it is: 3677030.
There is one thing I want to add, as a disclaimer. Young Living promotes some of their oils as being not only great for health, but also for "spiritual grounding," etc. What is that, anyways? I don't know, but it doesn't sound biblical. The only "grounding" I need spiritually doesn't come from God's beautiful creation (as wonderful as it is), but from the Creator Himself. My soul anchors, and is grounded, in Christ and nothing else. So, I do my best to get past that bit of "hokey-ness," and just focus on the health benefits part of it.
To start out with, I would love to hear your responses to the following questions!
Do you have any experience with essential oils?
If so, how did they work for you; how did they not?
What sort of questions do you have about how essential oils can help you be healthier? I may not have answers to those questions yet, but if I could know what they were, that might help me in investigating for future articles!
~Jessica